Spring is the start of wasp season
Adept Pest knows how to get rid of wasps in Seattle and Eastside homes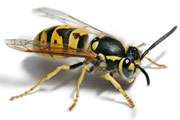 Spring is coming and along with the warmer temperatures comes wasps and yellow jackets starting to build their nests. If you want to avoid having a wasp or hornet problem on your property this year, now is the time to take action-before they start building nests. You know the old saying "An ounce of prevention is worth a pound of cure."
Wasp prevention treatment for Seattle and the Eastside
Adept Pest Solutions offers a comprehensive wasp prevention treatment by trained pest control technicians to minimize the possibility of wasps, yellow jackets and hornets from nesting on or near your home.
April and May are the ideal time for the treatment as the hibernating queens are emerging from their over-wintering nap and ready to establish new colonies.
Why you need wasp prevention
While wasps and yellow jackets are mostly beneficial insects, they do pose a stinging hazard when their nests are disturbed. Many people are allergic to wasp or bee venom so a single sting can pose a serious health threat that may even result in death (if not treated).
Many people have this allergy and don't even know it and even when someone doesn't have an allergy, wasp stings to the face, neck and mouth can still be life threatening with multiple wasp stings having serious health consequences.
Wasp prevention service includes wasp nest removal
During our wasp prevention service, one of our pest control technicians will remove all old established wasp nests from your home and then apply an application to prevent wasps from establishing new nests this year. The products used during this treatment are low in toxicity, odorless and EPA approved. All treatments comply with the Washington State Department of Agriculture regulations and the Public Health Department of Seattle and King County.
Areas treated during our wasp preventative include:
Soffit and fascia
Roofline (gutterline)
Window frames and shutters
Underneath decking and overhangs
All detached structures (sheds, gazebos, garages, decks)
All exterior cracks, seams and crevices
Our guarantee to you
Adept Pest Solutions guarantees all Wasp Preventative Treatments from the date of service until the end of the same year of service (December 31st). If, after our treatment, you happen to get a wasp nest established on the perimeter of your home, we will treat that wasp nest at no additional cost.
Getting rid of wasps is our job
As a locally owned and family operated business, Adept Pest Solutions works hard to provide our customers with outstanding customer service and exceptional value. Every technician at our company is trained to use pest control treatments responsibly with regard to your family, pets and the environment.
Contact us as we are the experts at getting rid of wasps and other unwanted pests.
Wasp trivia
Wasps are social insects that live in nests or colonies. Usually, only inseminated queens overwinter and do so in sheltered places, like overhangs on your home. The queen will begin to make a few cells in a small nest to begin a colony. One egg is laid in each cell and the queen feeds the developing larva.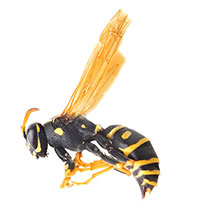 After about 30 days, the first 5-7 workers emerge and take over all the work, except the egg laying. Nests vary in size but average 2,000 to 6,000 cells and typically contain 1,000 to 4,000 workers. The founding Queen, workers and males all die during the winter while the new queen overwinters.
Tips for avoiding wasp and yellow jacket problems
Cover trash containers and keep containers away from eating areas.
Eliminate water sources like dripping outdoor faucets and standing pools of water.
Do not crush wasp as they give off an alarm pheromone and can alert others to attack.
Do not wear perfume, scented hair gels or lotions when outside as wasps are attracted to the smell.
Stay calm and do not swat at wasps as they are more likely to sting when aggravated.
Always call a professional pest control company to remove a wasp nest.